1/24th Audi R10 TDI
by Dany Galgani
Revell (Germany) kit is the only one of this car, the 2006 24 Hours of Le Mans winner. On the positive side, the proportions are reasonably exact, details of the body panels and cockpit are good, the basic engine is... basic. On the negative side, the fit is not always perfect, sometime rather bad. For example, when the body is cemented to the floor pan, the whole thing warps and you end up with the front right wheel and/or the rear left wheel not touching the ground. Another bad area is that there's absolutely no clearance between the wheels and the body work. In order to be able to fit them, I had to grind the interior part of the wheel hubs and thus bring the wheels inside the body work far enough for the tire rounded shoulders to clear the openings. Beside that, as I said it is the only kit of this car, so you have to make it work.
(Click on any photo to see a larger image)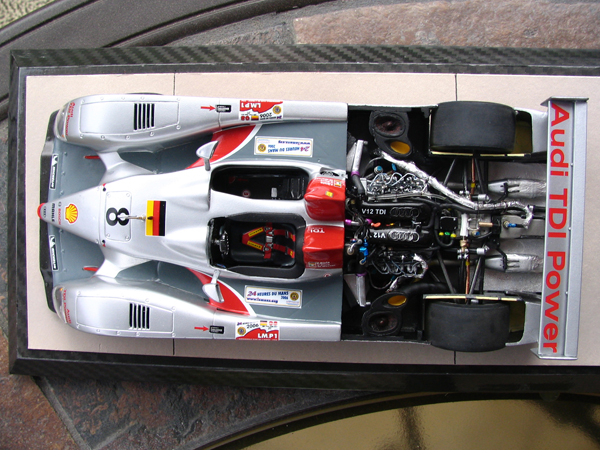 Of course the largest part of the work was to get the engine compartment to look somewhat like the real thing. The wiring and plumbing were a nightmare, as they probably were for the engineers who conceived and build the car. The fuel injection pipes are all intertwined, and there's all kinds of hoses, wires and cables getting in the mix. The twin turbos had no connection to the air plenum nor to the intercoolers, one of which was not properly located. The rear suspension control arm was just a bar running across the top of the gear box, so it had to be split and the hydraulic control unit installed between the two resulting pieces. Of course all of that had to be scratch-made, as were the air filter funnels, the brake cooling ducts, the walls separating the wheel wells from the engine compartment, the coolant expansion bottle (just behind the driver's roll hoop), etc.
By opposition, the only outside detail that was missing was the red circular nose tow hook. And I replaced the antennas on the front cowl with metal equivalent as the original plastic parts looked much too exposed to survive.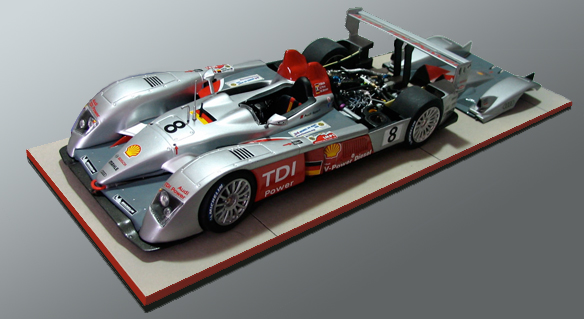 Here's the best way to view how close the model came to the real thing. A bit of weathering could probably make it even closer. I might do that later...
Here's a few more photos...
And finally, Revell provided a photo - on the outside of the box - showing what the engine compartment would look like when assembled.