1/32 F16-A
by Dany Galgani
Hasegawa kit #1202 (mid-80's vintage) was the second release of the F16-A kit. The first one was the aircraft prototype. The second one used the same plastic and came with "production" aircraft decals (a Thunderbird set was even included.) Here's what it took to make the plane a more accurate production version.

(Click on any image to see a larger photo)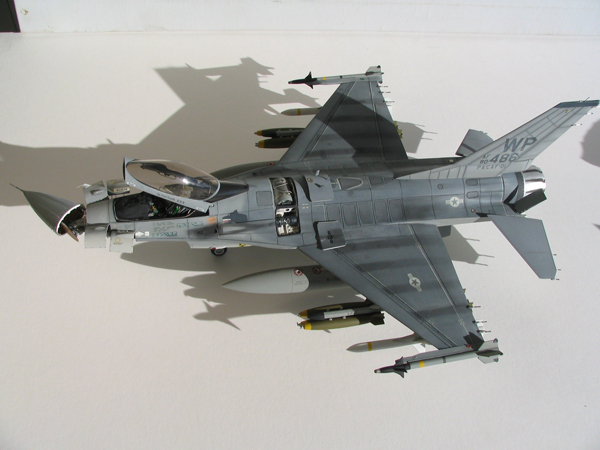 Construction:
- In the original kit, only the service panels were engraved. All other panels were raised and required to be converted.
- Lightning dischargers were added to the nose cone
- Verlinden cockpit kit replaced not only the instrument panels and the ejection seat, it also came with a new radar, avionic bays and doors, canopy inner detail, ammo drum and canon barrel.
- Wires were added to the radar and avionics compartments
- Scratch made detail was added in the cockpit, like air hoses and detail behind the head rest area.

- Hydraulic lines and components were added to the landing gear bays.
- The navigation side lights on each side of the jet intake and the small lights at the tip of the wings (top and bottom) were scratch-made as they were missing.
- The inside "skin" of the air brakes was scratch-made.
- Aires jet exhaust nozzle kit replaced the original parts.
- The horizontal tail planes were extended by a 1/4 in. and the outside rear corner was cut off.
- All statics dischargers, the nose antenna and the tail antenna were replaced with scratch made metal counterparts.

Stores:
- The original pointed rear end of the drop tanks was cut off, the winglets modified, scratch-made filler caps and decals added.
- The forward fins of the original AIM-9L Sidewinders were modified, lips were added to the base of the rear fins and the scratch-made exhaust detail was added to represent the AIM-9M version.
- The Sparrows that came with the kit were transformed into AIM-120s by modifying the shape of the front and rear fins. Scratch-made exhaust detail was added.
- Scratch-made nose "fuses" (little props) were added to the MK82 500lbs bombs.
Paint:
Most of the basic paint was Model Master's Acryl paints, air-brushed on large surfaces, hand-brushed on inside and detail areas. The jet exhaust nozzle was finished with Model Master's Metallizer Lacquer. Future was applied to allow good decal adhesion. A mix of Future, alcohol and underside acrylic paint was used to simulate the "fading" of paint and decals. The weathering was mainly done with Model Master's enamels, including touchups of original color to sensitive areas like service panels. Streaks like those bleeding from the flap hinges and the gun nozzle were an air-brushed mix of Tamiya Smoke (X-19), Future and alcohol. Final coating was made with Model Master Flat Clear Lacquer finish.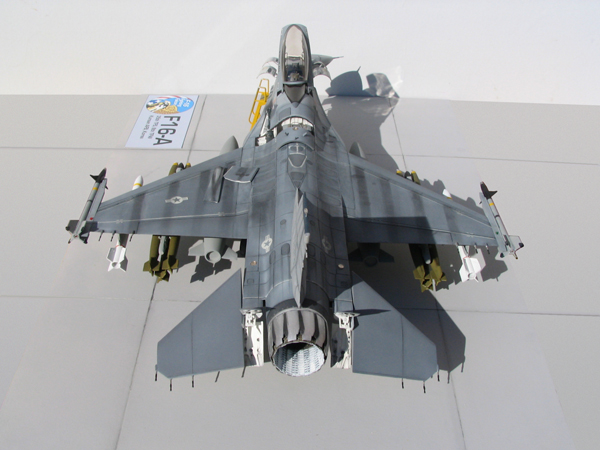 .
.
.